Now is the summer past. There have been many pleasant moments for Ahlberg, Ek & Roswall with concerts in several of the biggest festivals and meetings in Sweden.
I have also had the pleasure to play with Ulrika Bodén a few times because of that I and AER are guests on her new album. The album is called Te berga blå and includes herding tunes and songs from the forests of the North.
Besides that, I have done some performances with the St. Olav's show and some other odds and ends.
Now comes a fall full of exciting new projects and gigs!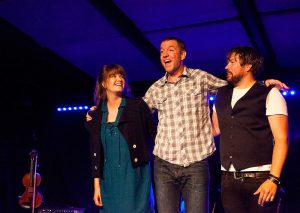 Ahlberg, Ek & Roswall at Urkult.
Photo: Sture Marklund