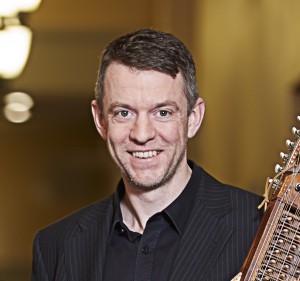 Niklas Roswall comes from the small village Kverrestad in Skåne, south Sweden, and is one of the foremost practitioners of the nyckelharpa. When he was ten years old he started to play the violin but soon he changed to the nyckelharpa instead.
Already the first time Niklas tried a nyckelharpa he was fascinated by the rich timbre of the instrument and all possibilities it gave.
A few years later, already as a teenager, Niklas received the title riksspelman and a few years after that he won the nyckelharpa World Championship.
Niklas graduated as a musician from the Royal College of Music in Stockholm and has since then worked as a freelance folk musician in a variety of contexts with the whole world as his field.
He gives concerts and workshops and performs both as a soloist and with his groups, among them is Nyckelharporchestra and now defunct Ranarim the most well known.
Niklas main group nowadays is  Ahlberg, Ek & Roswall, Group of the Year at the Swedish Folk & World Music Gala in 2016.